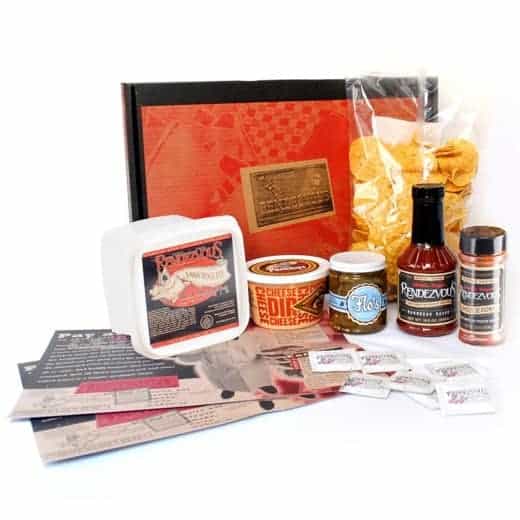 We are now shipping our Barbecue Nachos nationwide!  The Nachos have been a longtime staple at the restaurant, in the FedEx Forum (our NBA arena), in AutoZone Park (our AAA baseball stadium) and have been featured on Food Network and the Travel Channel.  The Nachos are loaded with pulled pork, Rendezvous Barbecue Sauce, nacho cheese, Rendezvous Seasoning and spicy jalapeños.  We've teamed up with our local friends at Pancho's and Felicia Suzanne's to bring you this original taste of Memphis!
What comes in the Nacho Box:
2 lbs of Rendezvous Pork Shoulder
16 oz of Pancho's Cheese Dip
1 Bottle of Rendezvous Barbecue Sauce
1 Bottle of Rendezvous Seasoning
1 bag of corn chips
16 oz. of Flo's Pickled Jalapeños
Makes 6-8 full portions of Barbecue Nachos.  If just using as appetizer, this can feed 12-16 people.
A little about Pancho's Cheese Dip and Flo's Pickled Jalapeños:
Pancho's Cheese Dip is made from scratch in Memphis using the finest ingredients.  No Memphis party or get-together is complete without Pancho's Dip, and it has been a local favorite in the Memphis area for nearly three generations.  It is gluten-free and made with pasteurized cheese.
Flo's Pickled Jalapenos are from the kitchen of Chef Felicia Williett.  Felicia's namesake restaurant, Felicia Suzanne's, has been located in the heart of Downtown Memphis for more than 15 years.  In 2014, she created Flo's Homemade Goodness, a product line of gourmet pickles and preserves.
How do we package and ship?
We take pride in packaging and delivering your order.
Because we refuse to ship in styrofoam, we ship all of our perishable items in custom designed cardboard boxes. These inner and outer boxes insulate and protect your food in transit.
All perishable items ship FedEx Priority Overnight. Our Ribs and Shoulder leave our facility fully-cooked and frozen direct from our Downtown Memphis U.S.D.A Kitchen. We pack each box with dry ice & ice packs. Be careful not to touch any dry ice when unpacking.
Our job is not complete until your package arrives at your doorstep. We track every order throughout the day. We will contact you if there is any shipping issue. During this time, FedEx is experiencing higher than normal volumes, and delivery times are not guaranteed. 
When will I get it?
You will choose a delivery date during checkout. Rib, shoulder and nacho orders placed Monday through Thursday before 2 PM CT can deliver the following day(excludes holidays and peak season). Saturday delivery is available in select locations for an extra $25.00. Please call 1-901-522-8840 for availability. You can schedule your delivery for the next available day or up to 30 days in advance. 
Non-perishable orders (sauces, seasoning or shirts) ship FedEx Ground or Smart Post. Guaranteed arrival within 2-7 business days.
Important Notes
FedEx will leave the package at the recipient's address provided; no signature required. If you are sending this package as a gift, please confirm the recipient will be in town. You should alert the recipient to expect a perishable package. We cannot be responsible for packages that are not retrieved in time and spoil.
To guarantee timely delivery, we must have a proper and complete address. Include any apartment number, suite number, floor number, or company name. Just in case we need to reach out, provide us a working phone number for the recipient.
Exclusions & Surcharge
We DO NOT ship to P.O. Boxes, A.P.O, F.P.O., or outside of the United States. Shipments to Hawaii & Alaska are subject to a $25.00 surcharge. Saturday delivery is also an extra $25.
Do you guys sell your sauce and seasoning to wholesale vendors?
Yes! For more information, email orders@hogsfly.com.
REHEATING INSTRUCTIONS
IF SHOULDER IS STILL FROZEN, ALLOW THE SHOULDER TO THAW BEFORE REHEATING.
If needed, you can also thaw the shoulder in the microwave at 50% power in 2 minute intervals.
YOU CAN REHEAT THE SHOULDER IN THE OVEN OR MICROWAVE.
Oven Directions
Preheat oven to 325.
Empty shoulder into an oven safe dish. Cover.
Heat for 30-45 minutes.
Microwave Directions
Heat in 2 minute intervals until warm enough to eat.
You can add additional sauce and seasoning to the shoulder to taste when serving. If you ordered the slaw, it tastes great on top of the shoulder.
PREPARE THE DIP
Pancho's Cheese Dip is best served at room temperature.
If still partially frozen when you receive, you can heat up in the microwave in 20 second intervals. Stir between intervals. Just make sure to remove the top and plastic film before doing so.
THE CONSTRUCTION
To build the nachos like we do in the restaurant:
LAY OUT A BED OF CHIPS
One bag of chips should make 6-8 full portions of nachos.
If it is just an appetizer, it can make a lot more.
ADD THE PORK
We usually add about 1/3 lb of pork per nacho.
You should even have some leftover for a sandwich or two.
DRIZZLE PANCHO'S CHEESE DIP OVER TOP
Be generous with your drizzle
(unless you want to stash a little away for yourself for later).
TOP WITH RENDEZVOUS BARBECUE SAUCE
And sprinkle with Rendezvous Seasoning.
At the end, depending on desired amount of heat, add some of the pickled jalapenos
Our Shoulder Is Fully Cooked And Seasoned
Can I refreeze the shoulder?
For optimal taste and quality, it is best not to refreeze.
How long is the shoulder good in the fridge?
The shoulder is good in the fridge for up to 7 days.
How long does it take for the shoulder to thaw out?
If still completely frozen, could take up to 24 hours in the refrigerator.
Our dining room is currently closed and we are only accepting curbside, delivery, and shipping orders.
Restaurant Hours
Tuesday - Thursday: 11am - 7pm
Friday & Saturday: 11am - 8pm
Address
52 S. Second Street
Memphis, TN 38103